Last updated 20 September, 2023
The Lowdown
If you liked the X1 Mk1 or Mk2, you'll love the Traktor X1 Mk3. Sure it looks similar, but it's been completely redesigned, with additional functional screens and lighting, new controls, the removal of little-used features, the return of much-loved features, a modern new look, and built-in powered USB hub to boot. It can even be natively used as a software mixer thanks to an all-new Mixer mode.
Don't have our latest DJ gear guide? Click here to grab your free copy
Video Review
First Impressions / Setting up
Straight out of the box (which also contains a power supply – although the unit can be bus powered unless you want to use the USB hub), the X1 Mk3 is a pretty sober-looking controller, with a mainly matt black finish and minimal to no labelling – just the Traktor X1 and NI logos in the new-look typeface on the faceplate, and the "NI" logo on the back.
It's long and thin, with a slightly smaller translucent plastic bottom half and the wider, taller top section where you'll find all the knobs, encoders, buttons and screens (there are five small OLED screens, three across the top and two in the middle).
Read this next: Traktor X1 Mk3 Is The First New Traktor Controller In Years
On the back are the USB-A sockets for the built-in powered USB hub, a USB-B socket for connecting to your computer with the supplied (USB-B to USB-A) lead, and the DC input socket for the 15v power adaptor and cable, supplied.
The unit is packaged completely in cardboard which is environmentally sound, although there are several plastic adaptors for global power sockets, of which you'll probably only use one and bin the others.
Setting up is simply a case of plugging it in to your laptop running the latest version of Traktor. You get a Traktor Pro licence in the box, worth $99, although if you want the more advanced features of Traktor, you'll need to subscribe to Traktor Pro Plus separately.
In Use
These types of controller are designed to work as "modular" DJ controllers. The idea is that you use it as part of a bigger set up. So for instance, you could use it in a DVS set-up with turntables, or with a Pioneer DJ DJM/CDJ set-up, or for a more minimal look, with any digital mixer utilising its built-in audio interface – or even just with an audio interface should you be happy controlling Traktor completely from the X1. (This is something made considerably easier by the new mixer mode, which we'll come on to.) We tested simply by plugging in to Traktor and playing away.
Transport, loop and library controls
The bottom section of the unit houses the transport controls. The Play and Sync buttons are now more set apart on decks 1 and 2 at the bottom than before, but you also get buttons for cue, reverse, and beatjump and hot cues. The extra row of buttons here has been afforded by dropping the touch strips from the X1 Mk2, something NI says people didn't use too much (the arrow buttons can be used for nudging anyway).
Just above the buttons are endless encoders for loops and library functions – four in total, with separate left/right deck library knobs making a return here.
There's a Shift button that achieves various extra functions (such as converting the loop encoders to Beatjump) and the two screens show time elapsed and time remaining, a progress bar, currently selected deck, and loop length – the latter taking over the screen entirely when you're adjusting the loop function. The screens are a great addition as it means less looking at a laptop when in the mix.
Ergonomically, the screens and endless encoders are separated from the transport buttons below and the FX controls above by having a gloss faceplate.
FX controls
The two vertical rows of four centre-click knobs, each with an accompanying set of four vertical buttons, comprise the FX section directly above all of this.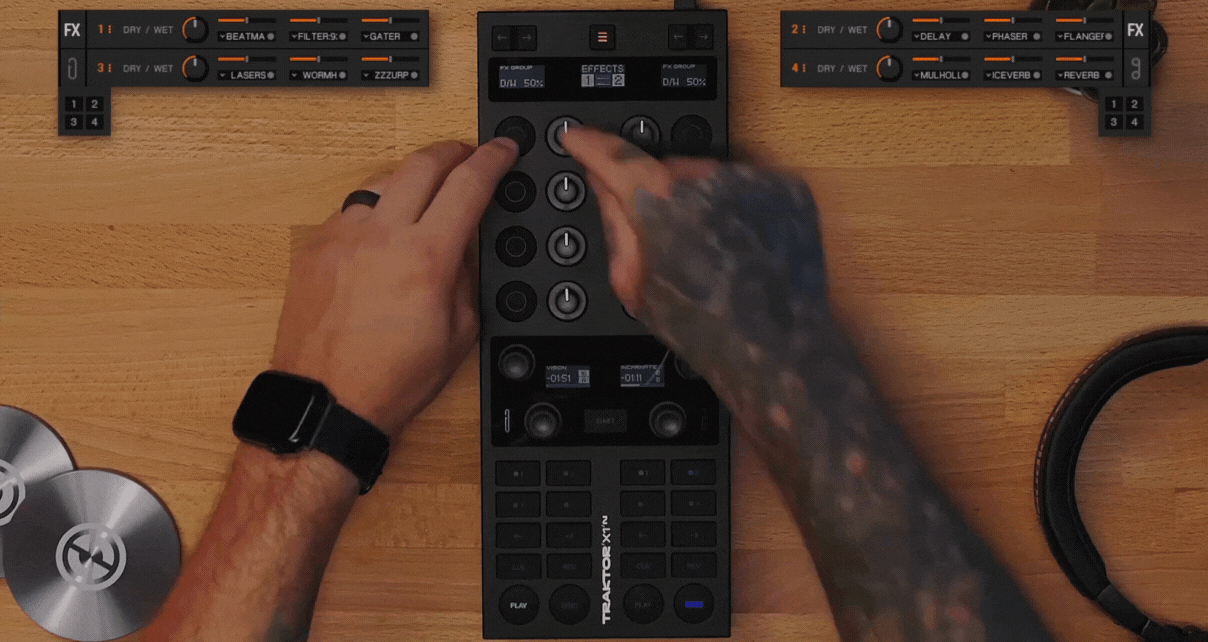 Effects are one of Traktor's strong points, of course, and here the controls are well thought-out and comprehensive. Of course they default to effects engines 1 and 2, but there is deep control of the third and fourth too at the click of a button. You can control individual effects or one effect per slot with full parameter tweaking, and the screens show you where you're at with each effect. There's even "soft takeover" when controlling two effects engines from one set of controls, and a screen indicator to help you with this – nice.
Learn to use Traktor like a pro: Traktor Made Easy
One ergonomic change is the moving of the effect selector buttons to the very top of the unit – NI tells us this is because people didn't tend to use those as much, so they wanted to move them out of the way.
While the left-hand and right-hand screens at the top give you effects info, the middle one tells you what mode you're in. Because tapping the hamburger button top middle switches to…
Mixer mode
A big use case for X1 controllers in the past by DJs has been to map the controls to use the unit as a mixer. NI has acknowledged this by making it an official mode. When you tap the hamburger button to move to mixer mode, the four knobs now control three-band EQ and volume, and the buttons control kills and headphones on/off for each channel. It can also be switched, like the transport, to mix decks three and four. There are even cute on-screen VU levels.
Of course to be clear this is not a mixer proper, it's a Midi controller – it doesn't even have an audio interface. What you're doing is controlling the mixer section in Traktor. Making it an "official" mode is a great idea though, as accessing it is simple for all DJs without having to get a third-party mapping or do it yourself.
Oh, and before we move on, know that if you happen to subscribe to Traktor Pro Plus, an additional tap of the hamburger button switches you to the pattern player, and again, there's deep control here, thoughtfully mapped.
Lighting
The underside of the unit has LED lights, which aren't just to make it look pretty. They offer several ways of feeding back to you too. For instance, when a deck slips out of sync, its "side" goes red (as does the sync button). When a deck is nearing the end, its "side" flashes. And when you're in a loop, that channel's side turns green (same as the loop colour in Traktor software). All of this is again designed to instil a kind of visual "muscle memory" in the DJ, and it's cool.
There is a vanity element here too, though, because you can set the default lighting colour to any of your choice of 16. That's done via the software, which we'll move onto now.
Software settings
There are two additional settings panels in Traktor's preferences concerning the X1. The first lets you remap the controls to lots of things, should the mapping not be quite right for you. It's an easy way to tweak the unit to how you may prefer to use it.
Meanwhile, the second panel concerns the lighting. Not only can you define your overall look here with the underside lighting, but also the backlighting of the controls on the top – either as a whole or individually. It's a nice touch.
Conclusion
We found the Traktor X1 Mk3 fun, intuitive and just pretty cool to use – frankly they were improving on a much-loved little modular controller anyway, and we think the changes are overwhelmingly good. As far as Midi controllers go, it's thoroughly modern and we can't see the existing user base not liking it.
Many DJs wanting modular control over Traktor have opted for the venerable old Allen & Heath Xone:K2, a bigger but similar controller (at least, similar to the X1 Mk2) that also has the advantage of having a built-in audio interface. Certainly a built-in audio interface would have made this a more "complete" unit, although for all but the most minimal of set-ups, there's likely to be an audio interface involved anyway, either for DVS or built in to a club mixer.
Watch the official talkthrough

Native Instruments made a great video on the Traktor X1 Mk3, which has one of their product specialists going through every new feature in detail.

DJ like a pro using ANY gear: The Complete DJ Course
Other things we'd have liked to have seen? A stand and case at launch would have been nice (come on NI, get to work on those!), some will miss the touchstrip in lieu of jogwheels, and really – and we repeat ourselves here – the thing many will feel still lets the entire game down is Traktor software itself, which has some serious catching up to do with its competitors, most obviously in its lack of flexible beatgridding and real-time stems.
But for Traktor's user base of electronic DJs – who appreciate its rock-solid sync, its tight looping and beatjumping, its excellent sound quality, and of course its world-leading effects – the X1 Mk3 offers the best minimal control yet.
Want help choosing gear? Grab your free PDF: The Digital DJ Gear Buyer's Guide
Let's hope, as NI's first new controller in three years, it heralds the acceleration of development for the software too though, because people have been waiting long enough for meaningful steps forward.